It's an exciting foreplay, it's generally experienced as the best BDSM play, deepens the trust and respect between partners, it looks erotic and exciting on photos and is simply fun to do; Japanese rope bondage. We think it's safe to say that information about Japanese rope bondage (aka shibari or kinbaku) is the most sought after in the BDSM community world wide.
Who is RopeMarks?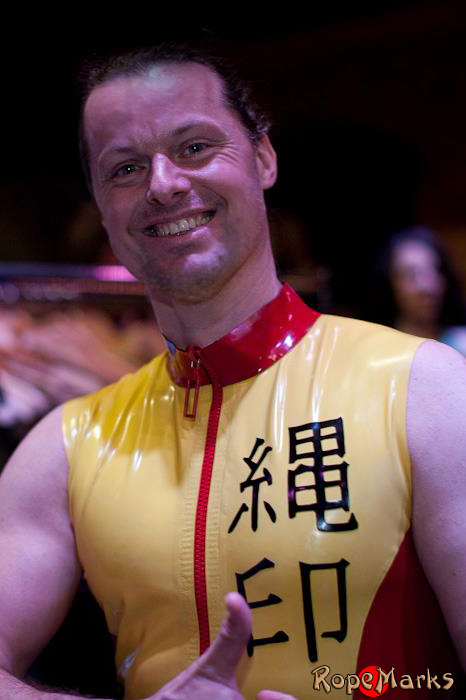 RopeMarks (Amsterdam, the Netherlands) started studying and specializing himself professionally in Japanese rope bondage (shibari, kinbaku) in 1999. Over his career he studied under the lineage of the late Akechi Denki (明智伝鬼) and Naka Akira (奈加あきら) in the land of the rising sun. RopeMarks' work reflects the traditional techniques taught by these leading nawashi's but is vastly complemented with his own distinct and unique style.
RopeMarks is recognised as the leading Dutch specialist in the field of Japanese rope bondage. In the world-wide kinbaku scene RopeMarks is a house-hold name of very good reputation.
RopeMarks has been teaching Japanese rope bondage around the globe, from Europe to the USA and all the way to the country of origin, Japan.
What is RopeMarks Ryū?
RopeMarks Ryū is one of, if not, the oldest traditional Japanese rope bondage Ryū in the Netherlands and Europe. It was officially founded in 1999 by Bob of RopeMarks.
RopeMarks Ryū is designed to easily understand essential Japanse rope bondage (kinbaku) skills.
To understand the concept of RopeMarks Ryū you need to understand the general concept of a ryū. Simply put a ryū can be described as a style, as in a certain way of doing something or as a school of thought or discipline.
RopeMarks Ryū is a traditional school developed by Bob of RopeMarks that is the synthesis of many aspects of the deceptive simplicity of Kinbaku and Hojojutsu. It is designed to teach you essential skills and techniques with an emphasis on technical, physical and emotional safety.
Even with its roots in tradition RopeMarks Ryū will continuously develop, always changing, flowing and maturing with new insights. Some basics will never change but as long as people consciously and subconsciously learn, develop and grow so RopeMarks Ryū will develop, grow and mature.
Pillars of RopeMarks Ryū
RopeMarks Ryū is designed on a number of pillars to allow its students to easily understand and learn essential Japanese rope bondage skills.
The true beauty of, Japanese, rope bondage; technically strong and beautiful, emotionally safe, bondage with your own partner.

Think about what you do and why you are doing it; safe, sane and consensual practice of kinbaku.

Kinbaku is a means not a goal; pragmatic methods to create the best experience possible.

Know your history to shape your future; build upon the past of hojojutsu, kinbaku and honour those who have gone before.

Motivate and stimulate originality; use layering, patterns and building blocks to innovate.
be a voice, not an echo
What tuition do we offer?
What tuition do we offer?
Using the name RopeMarks Ryū we provide worldwide workshops in Japanese rope bondage.
What others have to say
The testimonials is a brief list of feedback from RopeMarks Ryū students and participants.
Sign me up
I've heard enough, I want to apply and participate. Be among the first to be notified of new tuition dates